About
The University Of Toronto Baja Team is a student run organization that originated in December, 2012 under the supervision of University Faculty member Dr. Matthew Mackay. The team's goal is to compete and excel in the Baja SAE Design Series, which is a collegiate design competition sponsored by the Society of Automotive Engineers (SAE). The Series consists of three regional competitions that simulate real-world engineering design projects and their related challenges. Engineering students are tasked to design and build an off-road vehicle that serves a recreational user market, and will survive the severe punishment of rough terrain and water obstacles.
Baja SAE competitions occur throughout the year in different regions of North America and each of the competitions lasts for several days. The main objective of the competitions is to provide SAE student members with a challenging project that involves planning and manufacturing tasks found when introducing a new product into the consumer market. The vehicle to be designed is meant to be a prototype for a leading performance production vehicle that has a projected production level of 4000 units per year. Therefore, the design must be reliable, maintainable, ergonomic and economic in nature in order to be a success. The design's performance will be measured through dynamic events at the competitions, which feature challenges that test speed, handling, ride, and ruggedness over rough terrain. Students must function as a team in order to design, build, test, promote, and race a competitive vehicle. Each competition event features roughly 100 University teams. Refer to the following link for details: http://students.sae.org/competitions/bajasae
Each year, the U of T Baja Team designs a new vehicle.  We use some stock components, such as shocks, wheels, and steering components.  Most notably, we use an unmodified Briggs and Stratton engine, as required by the rules.  However, most of the vehicle is custom designed by the Baja Team, including the frame, transmission, and this year likely the suspension.  We use tools such as SolidWorks and Ansys to design and optimize the vehicle.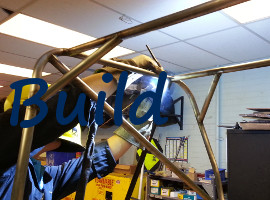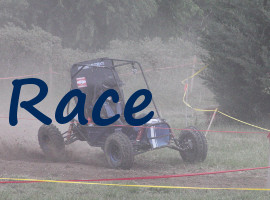 2014/2015 Leadership
Daniel Garza

Team Leader

Mech Eng 1T6

Nicolas Rémy

Team Leader

Mech Eng 1T6

Galen Leir-Taha

Chief Engineer

Mech Eng 1T6

Jack Zhang

Treasurer

Mech Eng 1T6
Founders
Andriy Ponomar

Co-Founder

Mech Eng 1T3 + PEY

andriy.ponomar@mail.utoronto.ca

Volodymyr Ponomar

Co-Founder

Mech Eng 1T3 + PEY

volodymyr.ponomar@mail.utoronto.ca

Daniel Okrent

Co-Founder

Mech Eng 1T2

daniel.okrent@mail.utoronto.ca
Recruitment
UofT Baja Team is always seeking new and talented team members with passion for off-road racing. Either engineering or business inclined individuals are welcome to apply. Engineering members of the team take the responsibility for the design and/or fabrication of a car component.  Business members of the team will be responsible for financial, media and promotional aspects. New members will be taught design synthesis and selection concepts, and practical techniques related to industry equipment.
If you are willing to participate and join the UofT Baja Team, please contact us! Please note: you can join the team regardless of your program of study.